FI CH
8.10.2001 – 3.5.2010 (COD unknown)
#2 Producer in Finland 2009 (#1 Brood Bitch)
#3 Producer in Finland 2007 (#1 Brood Bitch)
BOS at the Finnish Specialty 2005
PBISS in 2002
(Ch. Macis Springsteen x Ch. Aysha v.d. Tausend Hügeln)
HD-A ED-0/1 (in Germany HD-Frei ED-0)
Normal eyes (11/07)
breeder: Jürgen Mogge, Germany ("vom Rummelsbach")
owners: Tuuli Yrjönen & Kirsi Niilola
» Raisa's offspring
» PEDIGREE
» Breed evaluation
» Raisa in BernerGarde
» Raisa in KoiraNet
Raisa was our wonderful foundation bitch from Germany – a combination of Swedish and German blood lines.
She was a great brood bitch and a wonderful family member. She will live on in her kids, grand kids, great grand kids….
Raisa gave us 17 beautiful puppies in three litters. Seven of her offspring are champions and one is a CAC winner. Some of her kids are active in obedience and agility, too. Also Raisa's grand kids are making us very proud!
» Raisa is the dam of Funatic V & Funatic R litters and Bendoran A litter.
Check out the page: Arancha offspring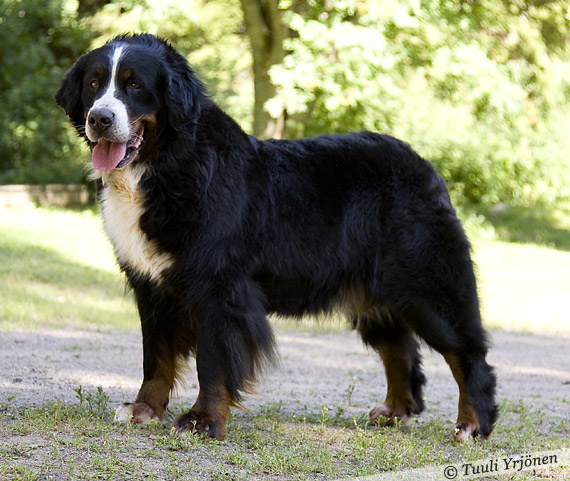 Raisa 7 years 9 months in July 2009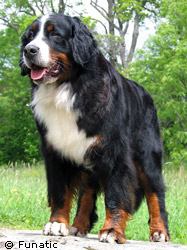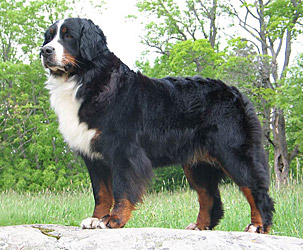 Raisa 4 years in 2005
Pedigree:
S&N CH
Macis Springsteen
HD-UA ED-0
S CH
Gingerhof Rebel-Rouser
HD-UA ED-0
Skogshyddans Al Capone
HD-UA ED-0
Berntiers Ginger Girl
HD-UA ED-0
Odenhills Winjett
HD-UA ED-0
INT&S&DK CH
Macis Kempe-Dansk
HD-UA ED-0
S CH Min Hund Anjou
HD-UA ED-0
INT & DT & DT.VDH & LUX CH
VDH-ES'01 A BS'02 SSV-GH1&GH2
Aysha v.d. Tausend Hügeln
HD-Frei ED-0
CH.
Dajan v.d. Hausmatt
HD-Frei ED-0
INT&DT&LUX&DT.VDH CH
Igor von Vindonissa
HD-Frei
Gina von der Hausmatt
HD-Frei
SSV-GH1
Hilka v. Eichholzer Tal
HD-V ED-1
Laurin v. Schnetzenschachen
HD-Frei ED-0 OCD-0
DT&DT.VDH CH BS'98
BH RH-FI.A RH
Extra vom Eichholzer Tal
HD-Frei